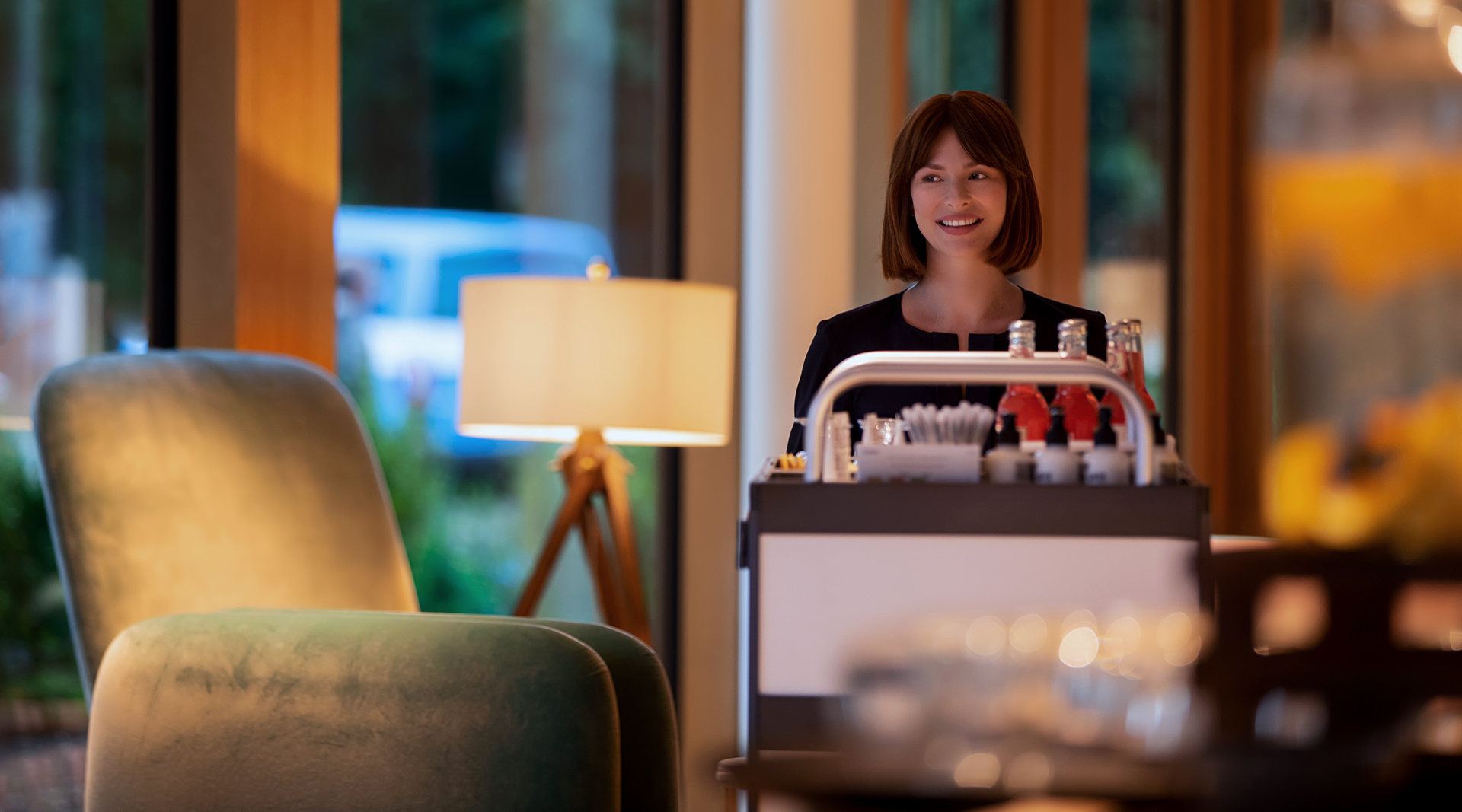 Scroll
Equipe Hotel
The trolley for experienced hoteliers
"Everything was so clean! I'd definitely go again!" Many establishments that are lucky enough to get this kind of feedback on online travel platforms use Equipe Hotel cleaning trolleys. After all, cleanliness is just as important for guests as beautiful decor and professional staff. What's more, you can brand this premium trolley with your own logo and corporate design so it complements your ambience to perfection.
Equipe combines an exclusive look and feel with ease of handling thanks to robust materials and a smart design. Equipe Hotel cleaning trolleys are ideal for cleaning hotel rooms, lobbies and conference rooms.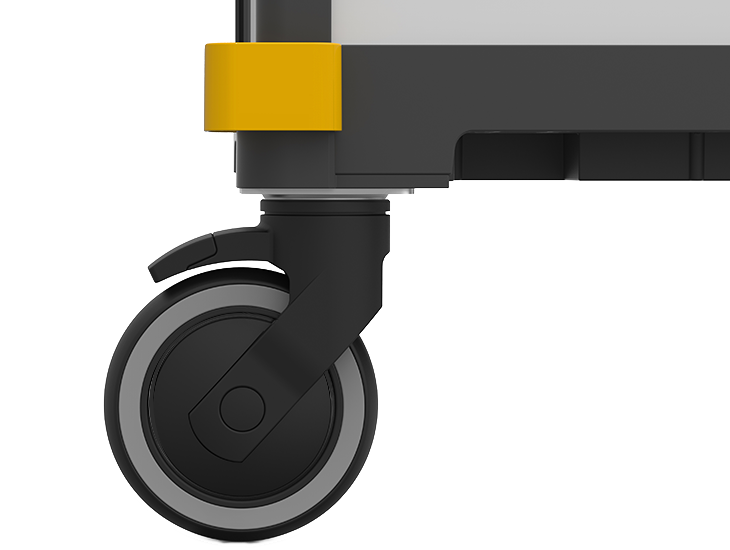 The Equipe Hotel cleaning trolley from VERMOP
Practical and versatile
This ultra-convenient cleaning trolley allows you to work thoroughly and efficiently, ensuring everything you need is always at your fingertips. With its exceptional loading capacity, it offers a wide range of modular components including shelves, boxes and buckets – all of which you can freely combine to create the trolley of your choice. The smart panelling ensures that Equipe Hotel always looks the part – even in hotel corridors. You can also adjust the height of the push-bar on Equipe Hotel for correct posture.
Stylish appearance with your branding
This one-of-a-kind cleaning trolley is designed not only to ensure sparkling cleaning results, but also to impress guests with its extremely stylish design and customised panelling. Use the VERMOP design studio to turn your cleaning trolley into a brand ambassador sporting your corporate identity and matching colour scheme.
Made in Germany – for years of service
Equipe Hotel cleaning trolleys are carefully designed and made in Germany from high-quality materials. All of which makes them extremely long lasting. They are very robust and can be adapted at any time to meet your needs. In the unlikely event that something does go wrong, spare parts are available for five years.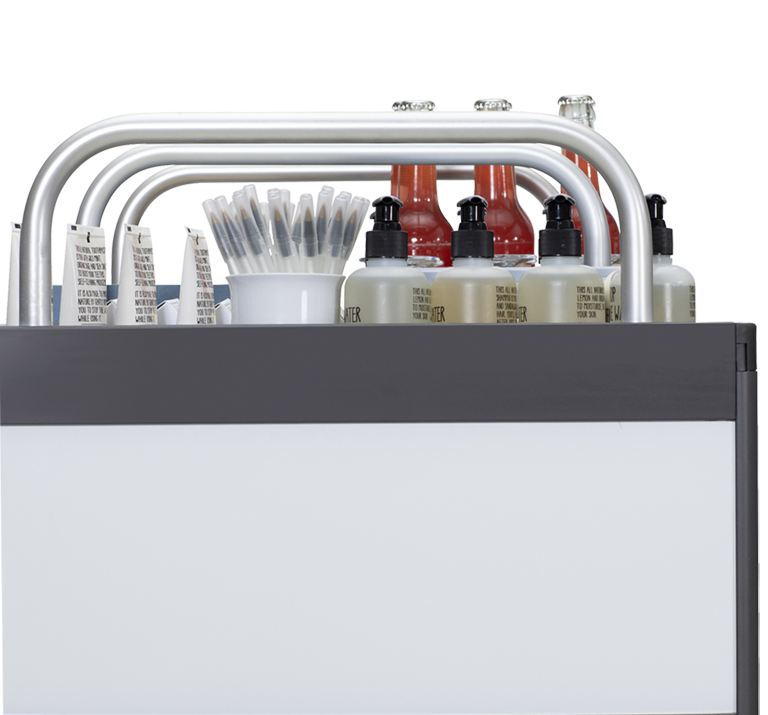 Ideal for...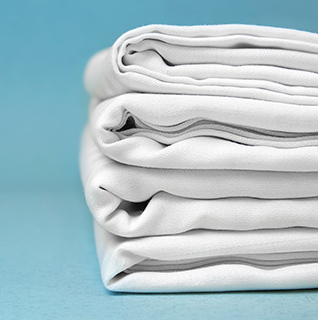 ROOM SUPPLIES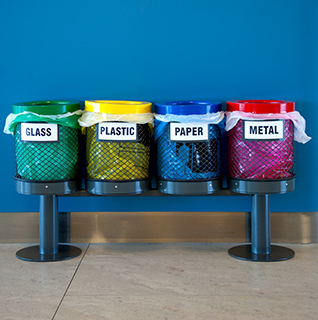 DISPOSAL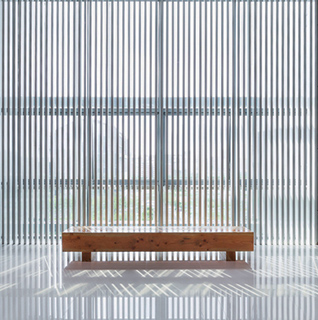 GENERAL CLEANING
The Equipe 2 x 120 l laundry trolley is the same height as an Equipe cleaning trolley. It offers space for two 120 l disposal bags. With its panelling and stable design, this trolly can be used to discretely and easily transport laundry.
---
Short product descriptionEquipe 2 x 120 l laundry trolley
---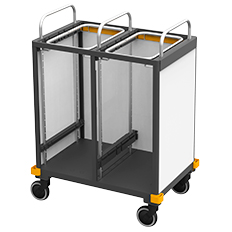 Equipe 2 x 120 l laundry trolley
The Equipe Hotel (large) cleaning trolley is equipped with storage space to supply laundry to hotel rooms. Compartment dividers can be added on top of the trolley to clearly organise and transport small items too. With its stable design and panelling on three sides, this trolley looks great and always gets the job done.
---
Short product descriptionEquipe Hotel (large)
---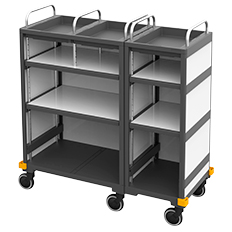 The Equipe Minibar (small) is the same height as an Equipe cleaning trolley. This agile trolley is perfect for filling up minibars and supplying other small items. You can mix and match the boxes and compartment dividers to flexibly customise the interior to your needs.
---
Short product descriptionEquipe Minibar (small)
---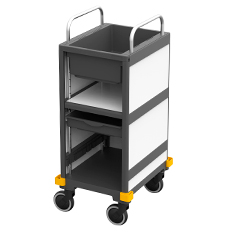 The Equipe H3 trolley is enclosed on three sides with platinum white panelling. This is the basic model in the Equipe Hotel range. The top draw and two five-litre boxes provide ideal storage space for small items. The trolley can be expanded on demand with add-on modules, for example for disposal systems or a Jetvac vacuum cleaner. Like all Equipe Hotel trolleys, the Equipe H3 is extra tall and has a huge amount of storage space for laundry and other equipment required to clean rooms.
---
Short product descriptionEquipe H3
---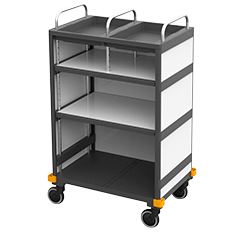 The Equipe H1 has three shelves and plenty of storage space. The platinum white panelling makes this professional trolley a sleek, harmonious and aesthetically pleasing addition to any hotel. The disposal unit on this model, which can also be panelled if required, is easy to manoeuvre thanks to its practical, height-adjustable push-bar.
---
Short product descriptionEquipe H1
---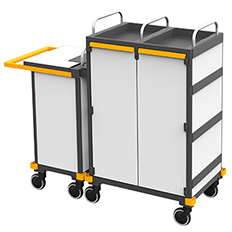 Accessories
Trolley equipment

Trolley accessories

Mop

Cloths

Liquid