VERMOP ONe Software solution
CLEANING RE-IMAGINED - INNOVATIVE TECHNOLOGY INTELLIGENTLY NETWORKED
With the VERMOP ONe software solution, you have an innovative tool at your disposal that will sustainably increase your success and competitiveness. With the implementation of "Smart Cleaning", VERMOP is leading the cleaning industry into the next product generation. This is because VERMOP ONe, our specially developed digital solution for professional cleaning, equips you with strong competitive advantages. It networks the digital cleaning schedule with all cleaning devices and provides intelligent data evaluation at the same time.
YOUR ADVANTAGES
Time and cost savings through data collection in real time and transfer to the web portal, so that the presence of the property manager on site is not necessary

Security and protection against unauthorised claims through complete documentation

Reduction of training costs and high employee motivation through simple, language-neutral operation of the Infotainer

Integrated quality checks lead to an increase in quality standards within the property

Open communication between the property manager and the cleaner through a simple ticket system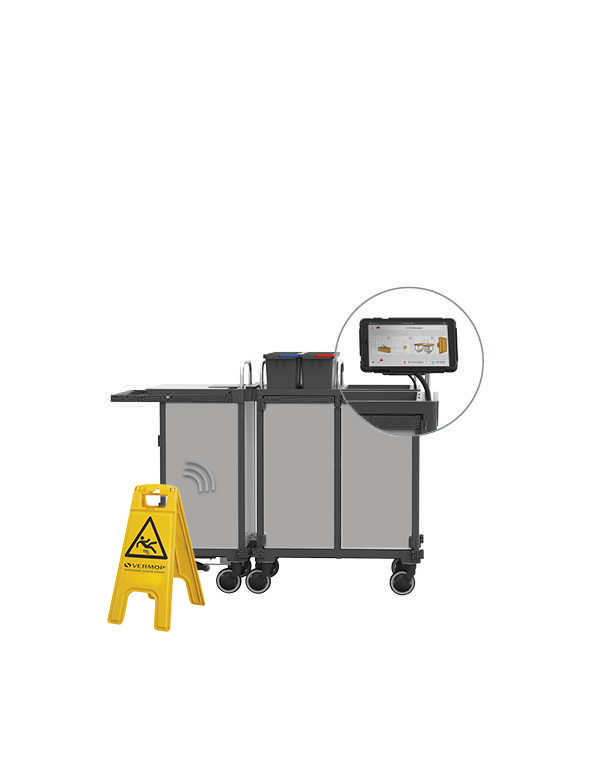 THE WAY VERMOP ONe WORKS
THE WAY VERMOP ONe WORKS
CLEANING EASIER THAN EVER BEFORE
WEB PORTAL
The web portal offers you various functions to make your daily routine much easier and let you act proactively: Features such as cleaning time recording, room book system, logbook documentation, integrated quality checks and ticket creation make it easy to manage your cleaning processes and save an enormous amount of time and money.
APP
With the EGGSTACY app, you are able to create and send tickets for the cleaning staff on site via your mobile phone and also carry out quality checks easily and conveniently.
INFOTAINER
A digital cleaning schedule is generated based on the room books and service specifications entered in the web portal. Via the tablet on the cleaning trolley, this shows the cleaning staff the work to be done daily in the form of language-neutral pictograms. Use the universal VERMOP standard templates (healthcare, office buildings, schools), which you can easily adapt to your needs.
TOOLS
With the help of digital sensors, all cleaning equipment can be connected to the software if desired. This allows the equipment to automatically report back relevant information in real time. With the data obtained in this way, you benefit from unprecedented transparency about all cleaning activities in your property.